How can you save water at home? These three ways to save water will help you keep your household more eco-friendly and your wallet fuller than ever before. Read on to learn more!
1) Replace your old showerhead
You might not think about it, but you use a lot of water every time you take a shower. According to several studies showering accounts for anywhere between 16-30% of our daily water consumption—that's more than any other activity we perform. If you want to save money on your next water bill and help preserve our environment at home, consider replacing your old showerhead with a new eco-friendly model such as those that disperse the water with air.
2) Install a dual-flush toilet
One of the easiest ways to save water is by installing a dual-flush toilet. They use 7L or less per flush, so they can reduce your household's water consumption significantly over time. Better yet, most new toilets come with an Energy Star certification and require less than 27L per flush.
3) Weatherproof your home
If you're looking for a way to save money, think about taking steps to weatherproof your home. The National Oceanic and Atmospheric Administration estimate that 8–10% of water in our homes can be attributed to leaks and breaks. A good place to start is checking your toilets and taps—you may be surprised by how much water you can save simply by installing a new tap or repairing an old leaky one.
There are so many options and features available to suit different needs and budgets. Take a look at the overview below:
No-noise extractor fans
The most common complaint made about extractor fans is that they make too much noise. If this is something that might bother you there are a range of no noise options that could be best for you. These fans have been specially designed to minimise noise, thanks to their silent running ball bearing motors. The sound they make is measured on the decibel scale and can be as low as 30dB – the equivalent of a whisper.
Ideal for en-suite bathrooms where you don't want a rattling fan keeping you up at night.
Over-shower extractor fans
It's best to position an extractor fan as close to the source of moisture as possible. Most people would choose over their shower enclosure and bath. However, as bathroom fans are an electrical item, it is vital that you ensure you have the correct IP rating for the particular bathroom zone.
Extractor fans with timers, sensors & cords
The array of timers and sensors on extractor fans make for some great extra touches for you to choose from.
One of the most useful is the humidity sensor – or 'humidistat. These automatically detect moisture in the air and switch themselves on, meaning you can rest assured that your bathroom is being taken care of.
Extractor fans with timers are also very popular, as they keep running for a set number of minutes after they have been turned on. This is an ideal choice as they continue to empty your room of steam after you have left the shower.
Timed fans are also ideal for those who want to connect theirs to their light switch. However, you can also find extractor fans with a built-in light, if rewiring to your light switch seems like too much work.
Models with pull cords are still available for you to control as you like.
See the next in our Extractor fan series – Installing your Bathroom Extractor Fan
Where should you put an extractor fan?
You will want your fan to work at its best so there are a few conditions that are good to try and meet.
Mount your fan as high as possible on the wall.
2. Try and position it as close to the main source of steam and condensation as you can – remember to check the IP rating is suitable.
3. Try and keep it away from a window – this ensures fresh air isn't being sucked right back out of your room.
If you aren't able to fit an extractor fan through your wall or ceiling, they can also be placed in windows. This is generally a much easier job as it requires less building work, however, you will need to cut a hole in your glass, and this can be a tricky job for DIY beginners – contact a glazier if you are unsure.
Do bathroom exhaust fans have to be vented outside?
It is always a good idea to have your bathroom exhaust fan vent outside. The purpose of your extractor is to remove moisture from the air, if you simply deposit it in another room or attic, you are could just moving the problem to another area.
To avoid dampness and mould entirely, make sure your fan exits outside.
How much does a bathroom extractor fan cost?
The overall cost to install a new bathroom extractor fan depends on a few things, such as:
Which fan you buy
Whether you are replacing an old fan or fitting a new one
How straight forward your job is – is it simply being fit through an external wall? Or do you need longer ducting to reach your external venting point?
Bathroom extractor fans do vary significantly in cost. As you would expect some basic models can be bought for less than £20, but the more specialist models can be closer to £100. When it comes to fitting it, that will depend entirely on the scale of the job. Replacing an old fan like-for-like may only take a few hours. However, if you require any rewiring or new building work, this could take much longer, which in turn would increase the cost of a skilled tradesperson.
When it comes to fitting it, that will depend entirely on the scale of the job. Replacing an old fan like-for-like may only take a few hours. However, if you require any rewiring or new building work, this could take much longer, which in turn would increase the cost of a skilled tradesperson.
See the rest of our extractor fan series – Everything you ever wanted to know about bathroom ventilation
So you need an extractor fan but where do you begin when choosing one with all the different types available on the market? Which one is best for your bathroom?
The most common:
Axial – These connect directly through an external wall and are used when the air doesn't need to be moved long distances.
Centrifugal – These are designed for bathrooms that are not close to an external wall (over 1.5m away). They can move air long distances along their ducting, which means they have a more powerful extraction rate – and are often noisier. They are usually fit in ceilings.
You might also hear of inline fans. These are normally fitted in the ceiling and can be used for extra long distances of 40 metres or more. Another term you might hear is 'ducting' when searching for your extractor fan. This refers to the hose that carries the old air from inside to the external vent, similar to what you might find in a tumble dryer.
If your bathroom is a long distance from an external wall, or you are fitting it in the ceiling, you will require a longer 'duct run'. This also means you will need a more powerful fan – usually a centrifugal fan.
However, the most common type of extractor fan typically found in homes is the axial fan.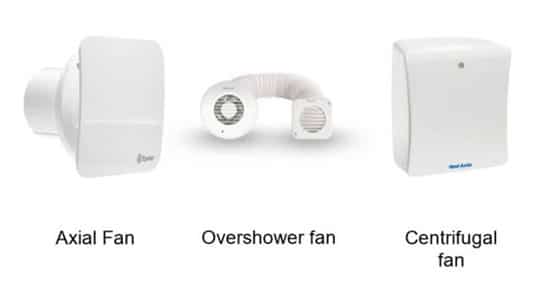 Are bathroom fans a standard size?
Domestic extractor fans tend to come in two sizes: 4 inches/100mm and 6 inches/150mm. This size refers to the size of the impeller (the revolving part inside the extractor fan that sucks the air out).
How do I size a bathroom exhaust fan?
To know what size bathroom exhaust fan, you need, refer to the cm3 (cubic metres squared) measurement of your fan. If your bathroom is 100 square feet or less, you will need an extraction rate of at least 1cm cubed per square foot of room area. So, for example, if your bathroom is 54 metres square, you will need a 54m3/hr fan.
Generally, as a rule of thumb, it's a good idea to get a fan with a little more power than is required. Most fans will offer a choice of two speeds and extraction rates, so you can adjust it depending on how much steam is being created.
See the next in our Extractor fan series – What extractor fan is best for my home?
Your bathroom is by default a damp, humid place. However, it's really important to ensure that all bathrooms in your home are well ventilated.
If you install proper bathroom ventilation you will not only limit condensation, but it will also help prevent mould and mildew, which can lead to nasty health issues. If mould is left to build up it can lead to respiratory problems, as well as skin complaints.
Poor ventilation doesn't just affect your health. If you ensure you have bathroom ventilation it will prevent premature wearing of your bathroom, such as bathroom accessories, paint and plaster.
Do you need an exhaust fan in the bathroom?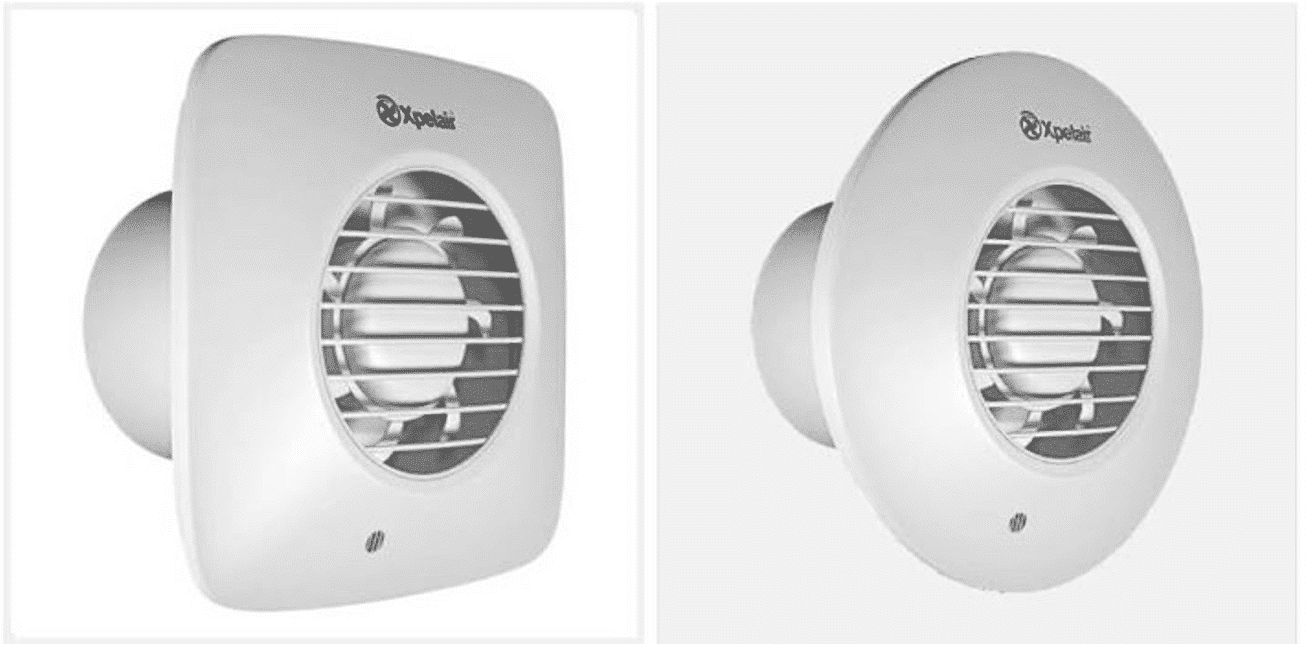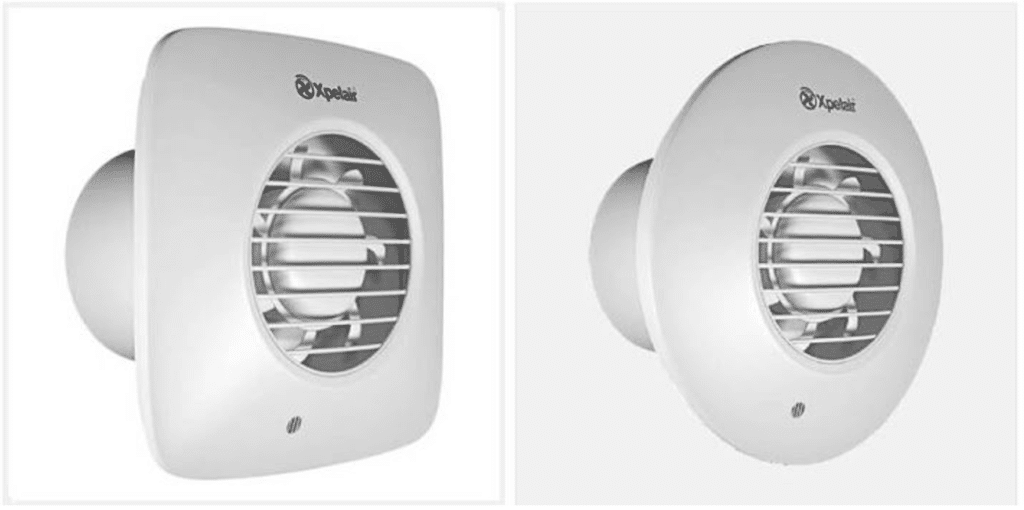 All bathrooms require some source of ventilation, which could be an extractor fan or an openable window. UK regulations regarding just how much ventilation your bathroom needs are detailed in The Building Regulations Document F. However, this is an in-depth document and a heavy read.
So, to save you the headache of sifting through the whole official document, here are the essential points you need to know…
A UK bathroom must be ventilated by either a window or an extractor fan
If your bathroom has a toilet only, you are fine to use a window alone as your source of ventilation
In new-build bathrooms with a bath and shower, mechanical ventilation is required in the form of an extractor fan. This is because new builds are more airtight, so natural ventilation is much lower
The ventilation requirements for a bathroom are 15 litres per second/ 54m3 per hour
You might be wondering what the last point means. Basically, the 15l/s, or 54m3/hr, refers to the measurement of how much old air is replaced by new air. This is standard for bathroom exhaust fans to meet these requirements, but you must really check this in the product description before you choose it.
If you have an old bathroom with only a window as a source of ventilation, it could still be a good idea to put in some extra ventilation, but only if mould or dampness are persisting issues, a fan can help reduce their effects.
What are the benefits of a bathroom extractor fan?
The easiest way to ensure that your bathroom meets the air ventilation regulations is to install an extractor fan. However, they also have benefits beyond your legal regulations. The main benefits of installing an extractor fan are:
Reduce condensation. Everyone knows how much steam a shower produces. An extractor fan minimises this. If you have a wet room, water and steam can easily disperse around the room and cause all sorts of damage, so you would find a bathroom fan especially useful.
Prevent mould. Condensation that your shower creates can lead to an worse problem: mould. Install proper ventilation which can help stop it from forming.
Extend the life of your bathroom. Two destructive forces in your bathroom are condensation and mould. They can damage your bathroom fittings beyond repair. The best line of defence against this is an extractor fan.
Keep odours away. Finally, if left all that stale, damp air can lead to unpleasant odours in your bathroom. A fan helps keep your air nice and fresh!
See the next in our Extractor fan series – What types of different bathroom extractor fans are there?